Garden with Insight v1.0 Help: Template mover
The template mover is a tool to move templates between template libraries.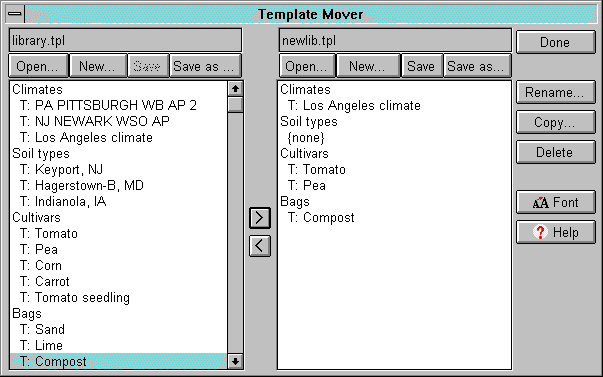 The template mover window
The left and right sides of the window are identical, except that they can open different library files. Click Open to open a template library (.tpl) or click New to create a new template library. Once a library is open, click Save to save the library or click Save as to save the library with a different name.
A special note about very large template files: Some of the template files you can use with Garden with Insight have hundreds of templates. When opening, saving, importing or exporting these large files, you might want to: 1) close other programs to free up memory, and 2) be prepared to wait. It may take a very long time (say one minute), you cannot stop it, and there is no progress indicator in this version.
To move templates between files, open a template library in each side of the template mover, select the template you want to move, then click an arrow button to copy the template to the other library.
The buttons on the right side work on individual templates. Click Rename to change the name of a template. Click Copy to make a copy of the selected template (in either library). Click Delete to remove the selected template from the library it is in.
Click Export to export the templates file on the right only to a tab-delimited text file. Note that any complex seedling cultivars copied to a text file will become seeds, because the information about their growth is not saved. (See How to make a seedling cultivar for information about how to turn them back into complex seedling templates.) Also, see the text file warning for information about editing tab-delimited text files.
Click Import to import templates from a tab-delimited text file to the templates file on the right only. If any names in the text file duplicate the names of objects that already exist, the duplicate object name window will appear asking you what to do about the duplication.
Click Done to close the template mover. If you made any changes to the template file currently loaded in the garden, it will be reloaded when you return to the templates window.
See also:
How to copy templates from one library file to another