Garden with Insight v1.0 Help: Display options window
In the display options window are several options for displaying the garden.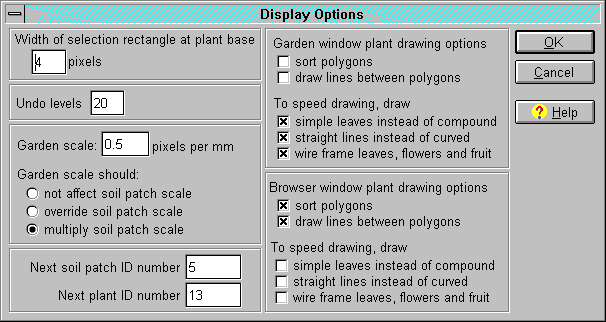 The display options window
Width of selection rectangle at plant base: Change this number to make selecting a plant in the garden window more or less precise. If you have trouble clicking precisely on the bases of plants, increase the number of pixels here.
Undo levels: This is the number of actions you can perform before you can no longer undo them. This number will affect the memory usage of Garden with Insight, so increase it only if you are not getting low-memory warnings. See How to change the number of undo actions for details.
Garden scale: The plants in the garden window are drawn at a certain scale in pixels per millimeter. Each soil patch has its own scale (accessed in the Soil patch basic parameters window), but you can override those scales to draw all the plants in the garden larger or smaller. This scale will depend on what sort of garden your picture represents. If you have a window box, for example, you will want a larger scale than you would for a backyard garden. See How to change the drawing scale of all plants in the garden for details.
Next soil patch ID number, Next plant ID number: The program automatically assigns each soil patch and plant a unique ID number, which it incorporates into the soil patch or plant's name (e.g., a plant named &quotp12: Tomato&quot is the 12th plant created). At some point these numbers could get very large, so you might want the count to start over. In these two edit boxes you can change the numbers that will be used for the next soil patch and plant created. However, all soil patch and plant names must be unique, so if when a new soil patch is created another soil patch already has the same name, the &quotnext&quot number will be jumped over.
Drawing options: You can change various options for plant drawing in both the garden window and browser. Sorting polygons and drawing lines tends to slow drawing down, but looks slightly better. If drawing seems slow to you, you can speed it up by choosing some of the simplifying options. See How to make plants draw faster and How to make plants draw more realistically for details.
See also:
How to change the number of undo actions saved
How to change the drawing scale of all plants in the garden
How to make plants draw faster
How to make plants draw more realistically