Garden with Insight
Product area
Help System
Contents
Quick start
Tutorial
How-to
Models
Garden with Insight v1.0 Help: How to change a tool's actions
To change a tool's actions, first choose Tools from the Edit menu on the garden window to open the tool editor.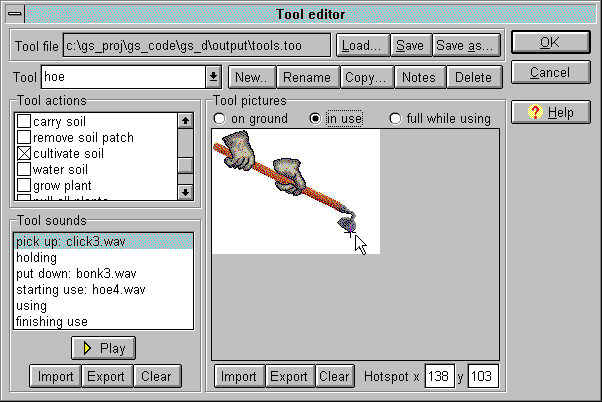 The tool editor window
In the tool editor, select the tool you want to change from the tool drop-down list next to the word Tool. In the Tool actions panel is a list of all the tool actions available in the program. If the check box in front of any tool action is checked, the currently selected tool has that action. For example, the seed packet will have a checked box next to the action plant.
Check any actions you want to include in your tool, and uncheck any actions you don't want to include. Click OK to save your changes, or click Cancel to abandon them.